Archives by date
You are browsing the site archives by date.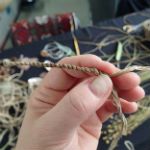 By Saskia Wolsak, Ethnobotanical Educator, UBC on December 2, 2014
String, rope, twine, cordage – what's the big deal? String is one of the most important, yet under-acknowledged, of all of human technology – and for the vast majority of our history, it was made from plant and animal fibres.