Archives by date
You are browsing the site archives by date.
By Dale Gintner on April 10, 2020
Spend 5 minutes, use some non-toxic markers and a hard-boiled egg to make a blue whale. Be creative with drawing on a 3D-surface. If you would like to see how we made ours, please see the step-by-step below! Tips: Remember a blowhole on the top, so it could breathe. Add the flippers on the sides—they […]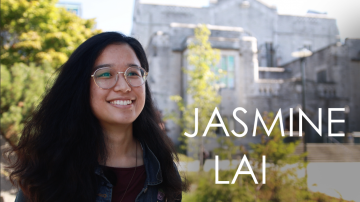 By Dale Gintner on March 24, 2020
Researchers Revealed is an exciting new series profiling the research performed in UBC's Biodiversity Research Centre. The series looks at new ways in which researchers harness technology to study the natural world in ways that were not possible before. Jasmine Lai describes the work she does as a technician at both the UBC Herbarium and in […]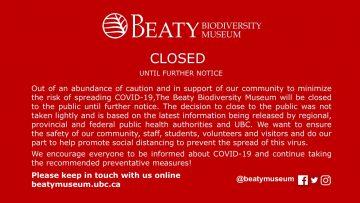 By Dale Gintner on March 16, 2020
The Beaty Biodiversity Museum is CLOSED until further notice!
By Dale Gintner on February 24, 2020
Vikram Baliga describes his research on the evolution and biomechanics of bird flight by looking at the variations between bird species.
By Dale Gintner on February 11, 2020
March 14 – March 29 During Spring Break, join the Beaty Biodiversity Museum every day at 12:00 pm for a different hands-on activity, brought to you by volunteers, staff, curators, and special guests! Meet new friends while exploring different aspects of the biodiversity around us. From identifying incredible insects, to art, games, crafts, and hands-on […]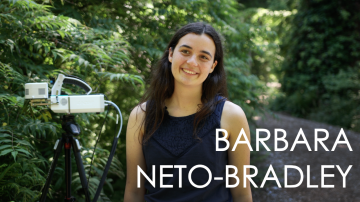 By Dale Gintner on January 28, 2020
Researchers Revealed is an exciting new series profiling the research performed in UBC's Biodiversity Research Centre. The series looks at new ways in which researchers harness technology to study the natural world in ways that were not possible before. Barbara Neto-Bradley describes her research on the evolution of vascular plants by looking at photosynthesis. For more […]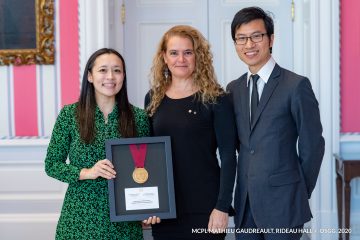 By Dale Gintner on January 27, 2020
Beaty Biodiversity Museum and Musqueam First Nation Collaboration Wins Governor General's History Award Perspectives on Biodiversity – Sturgeon Harpoon Knowledge Web is the recipient of the 2019 Governor General's History Award for Excellence in Museums: History Alive! The Governor General's History Awards recognize recipients' efforts to further an interest in Canadian history and heritage, and […]

By Dale Gintner on January 23, 2020
Perspectives on Biodiversity – Sturgeon Harpoon Knowledge Web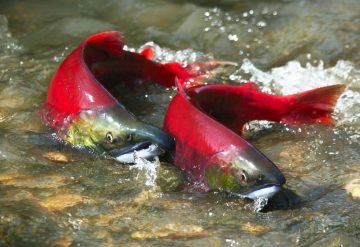 By Rick Taylor, Professor of Zoology and Director, Beaty Biodiversity Museum on January 7, 2020
The (poor) state of BC's Pacific salmon and steelhead trout by Rick Taylor, Professor of Zoology and Director, Beaty Biodiversity Museum
By Dale Gintner on January 2, 2020
Researchers Revealed is an exciting new series profiling the research performed in UBC's Biodiversity Research Centre. The series looks at new ways in which researchers harness technology to study the natural world in ways that were not possible before. Colin MacLeod describes his research on how climate change will affect the association between parasites and their […]