Beaty Biodiversity Research Center Expansion Project:
A significant expansion to the Beaty Biodiversity Research Center, located next to the museum, will be happening this spring. The construction period starts in April 2023 and the conclusion will be in spring 2025. As with any major construction project, we anticipate delays and unforeseen circumstances – we may need to cancel or change our bookings and rentals at short notice. We thank you for your patience as we undergo this exciting transformation! Read more here.
Please note that the Beaty Biodiversity Museum will remain open during the expansion period, and operations will continue as normal!
What to expect: During the construction period, visitors can expect some noise and occasional changes in access points. There may be times when the museum will have to close, and we may have to cancel bookings and scheduled programming at short notice. We will endeavor to provide the public with as much advanced notice as possible of any closure dates using our social media and website.
---
Below are answers to some common questions about visiting our space. If you have any other questions about accessing the museum, how to experience the space, or recommendations to share on this page, please contact us on info@beatymuseum.ubc.ca
How do I get around the museum?
For information on getting to the museum, including parking and accessibility shuttles, please visit our hours and directions page.
There are no lips or stairs to enter the museum. Flooring is concrete or tile throughout, with some level-surface metal air grating. Both our main doors offer button operated automated entry. Access to the lower level containing the museum collections is via a ramp with a fitted handrail.
Click here to view and download a PDF version of our visitor guide. Hard copies are available at the front desk for your visit.
There is an elevator in the Biodiversity Research Centre, adjacent to the museum, which can offer access to the collections floor. This elevator requires key-carrying
museum staff or volunteers; please ask at the admission desk or in the main collection space. Our auditorium has spaces for people who use wheelchairs and a ramp to access the front of the theatre.
Wooden slat bench seating is available throughout the collections. The benches do not have arms or backs. Folding stools are available on stands, you can take these with you as you explore the collections. If you would like to borrow a folding chair with support for your back, please ask a staff member.
The museum has one wheelchair available for visitors to borrow free of charge, thanks to the generosity of MacDonald's Home Health Care. Please call our front desk staff on 604-827-4955 to inquire about availability.
Where can I eat?
There are small snacks available to purchase on-site. For coffee and sandwiches Monday through Friday, there is a Starbucks next door in the Fred Kaiser building; turn left on Main Mall when you leave the museum.
For larger meals and weekend options, UBC Food Services have a useful guide to what is available nearby.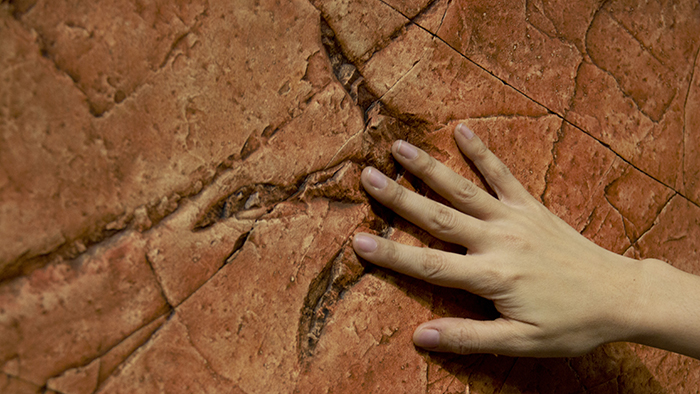 A water fountain is available on the upper level of the museum.
In order to preserve our collections, no food or drink can be brought into the collections area, except for water in a sealed container. Breastfeeding is welcome in any area of the museum. If you would prefer a private space to breastfeed, the nearest is in the Forest Sciences Building. Please consult their website for details on accessing this space.
If you bring your own snacks to the museum, there is plenty of outdoor space to picnic, and depending on availability, there may be seats indoors in the shop area.
Where are the washrooms?
There is an accessible single stall washroom for all genders on the gift shop level, and another on the collections level. Both offer button operated automated entry, and are equipped with handrails. The lower level accessible restroom has a children's change table.
Multi-stall washrooms are available on the lower level, each with a single accessible stall. We encourage and welcome visitors to use the facilities that make them the most comfortable.
What can I expect during my visit?
The collections area is a dimly lit space to protect museum specimens. There are many rows and aisles to explore! You can open drawers, but the doors of cabinets stay closed to protect our specimens.
We ask all visitors to refrain from running in our space.
The lower level washrooms have an audio loop of various animal sounds. The theatre plays various films at a comfortable listening volume; visitors can enter and leave at their leisure. Not all of our films have closed captioning. Ask to borrow a receiver for the theatre if you would like personal amplification with your choice of over-ear headphones or an FM loop. Ask at the whale station if you would like a printed transcript of Raising Big Blue to read while you watch the documentary.
Sometimes our exhibits may have sounds or video in small areas. The collections do not have sound throughout, though it can get loud when there are lots of visitors.
Occasionally our staff and volunteers may bring out real museum specimens for visitors to interact with, please follow their directions and be gentle with our specimens and exhibits. Sometimes we may have to close an area of the museum for programming or staffing.
Given the nature of the museum's work, and the materials used in preserving and maintaining our specimens for visitors to explore and learn from, we regret that we are unable to offer a scent-reduced space.
You can access a free audio tour of the museum complete with transcripts on our website. Ask us to borrow over-ear headphones if you don't have your own. View our daily calendar to see our schedule of tours, activities, and special events. We will turn zoom auto-transcriptions (captions) on during virtual programs.
Visitors can leave the museum and return as needed during the same day if you need a break. Please keep your receipt for re-entry and check in with admissions staff before going back into the museum.
Are service animals allowed in the museum?
Service animals are welcome at the museum, but in order to preserve our scientific collection, other animals are not permitted.
Where can I keep my belongings?
You are welcome to keep your bags and backpacks with you in the museum. The museum has several public coat racks where you can place a jacket or umbrella during your visit. These are unsecured areas, so keep your valuables with you. Strollers and mobility devices are welcome throughout the collections. Should you wish to park your stroller or mobility device, ask us for the best place to store it.
Bikes can be locked up in our bike rack area outside the front entrance. If you bring rollerblades, skateboards, scooters, or other similar devices, these should be carried through the museum or left at our coat racks.
What kind of training do your staff and volunteers have?
Our staff are encouraged to pursue professional development as a group and independently that complements their professional, communication, scientific knowledge, interpretation, and customer service skills. Recent workshops and conferences have included UBC's English Language Institute, Canucks Autism Network, Interpretation Canada, and the Lower Mainland Museum Educators. We always strive to serve all our visitors in the best way possible. Volunteers have weekly and yearly training that covers topics from museums, specimens, research, and customer service.
If you have suggestions or comments, or other ways we can meet your access needs, don't hesitate to email us at info@beatymuseum.ubc.ca.