Archives by date
You are browsing the site archives by date.
By david markwei on November 20, 2013
The 4th Annual Schofield Bryophyte & Lichen Foray was held September 26-29, 2013, in Wells Gray Provincial Park, as one of the many events of the Park's heritage year celebration.
By david markwei on November 20, 2013
Researchers from the University of Copenhagen and University of British Columbia examined the chemical composition of three-billion-year-old soils from South Africa – the oldest soils on Earth – and found evidence for low concentrations of atmospheric oxygen.
By Tanis Gieselman, Beaty Biodiversity Museum Interpreter on November 20, 2013
The Beaty Education team had a fantastic time at UBC Botanical Garden's Apple Festival this year! The weather held out for us, and we had some wonderful conversations with people.
By david markwei on November 20, 2013
Lindsay Follett, the City Editor for Family Fun Vancouver, recently took her boys for a visit at the Beaty Biodiversity Museum without prior research on what's happening at the museum. How did the trip turn out? Let Lindsay tell us…
By Dr. Rick Taylor, Curator of the Fish Collection, Beaty Biodiversity Museum on November 20, 2013
Sometimes this thing we know as "biodiversity" is just plain bizarre. The spider-tailed viper (Pseudocerastes urarachnoides) which has only been known to science since 2006, has a tail whose end is shaped, remarkably, like a spider!

By david markwei on November 20, 2013
As humans, we are drawn to the extreme – the grotesque, exciting, adorable, implausible and incredible. Organisms on this earth are equipped with extreme adaptations, capable of achieving amazing feats, while inhabiting and surviving in the seemingly impossible. Today, the Beaty Biodiversity Museum launches its newest programming theme – Extreme Adaptations.
By david markwei on November 20, 2013
Colleen Tsoukalas attended the fashion show of our temporary exhibition INVOKING VENUS, Feathers and Fashion, and wrote on the blog of the Society for the Museum of Original Costume (SMOC) about this opening night event. Click through to read her post.

By david markwei on November 20, 2013
Another year has passed with engaging presentations from the Way Cool Biodiversity Series, but only one of them can be crowned as the "Best of Way Cool 2012". The votes from the public have spoken, and without further ado, may I have the drum roll, please… The winner of the "Best of Way Cool 2012" is…
By david markwei on November 20, 2013
For any not-for-profit organization, hosting a major exhibition like INVOKING VENUS, Feathers and Fashion depends heavily on the support from the community, and the Beaty Biodiversity Museum is no exception. The exhibit features photo-based images by Catherine Stewart and accessories from the clothing collections of Claus Jahnke and Ivan Sayers. Through the juxtaposition of bird plumage with vintage fabrics and actual feathered fashion accessories, the parallels in human and bird behaviour become apparent.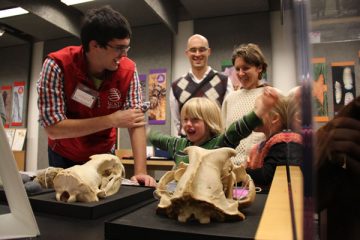 By david markwei on November 20, 2013
Evolution explains how amazing organisms came to be and links us all together on one giant tree of life. But how does evolution happen? How long does it take? And how does it help us better understand and explore the biodiversity that we see today? Visit the Beaty Biodiversity Museum and get hands-on with museum specimens in the lab, learn about current biodiversity research, and participate in daily programming that highlights relationships among species.